You should know that it's tough to get clients by traditional means. Therefore, with the continuous growth of technology, it's important to embrace digital marketing strategies in your finance business.
In the past years, the banking industry could hire individuals to reach out to customers at their homes and workplaces. However, due to financial technology growth, the banking sector reaches out to clients on 24/7 channels like social media.
For instance, it's easier and cheaper to reach your clients via online sites like social media and other platforms than going the traditional way. As a result, It will be tough for any business that isn't considering digital marketing in their financial goals.
This blog will shape your path in choosing the best channels to talk to your clients in the finance industry. Keep reading and get the guidance you need. However, you must first understand the meaning of digital marketing and how it will help your finance business to thrive in this era.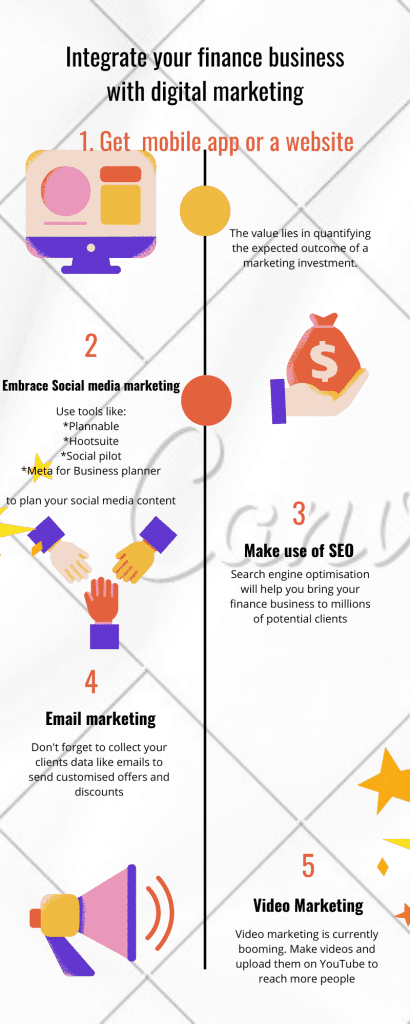 What is Digital Marketing?
Some decades ago, there was no active communication between the client and the business. However, the continuous growth of technology has introduced top-to-bottom and bottom-to-up communication channels. That has enabled businesses to get direct feedback from their clients quickly.
So, digital marketing is the act of reaching clients and final consumers via digital communication procedures. For instance, it's more convenient to reach clients on social media than on some other channels.
Therefore, you can make your financial products and services available on sites that are close to your end consumer.
Digital Marketing and Finance
Let's agree that everyone depends on money for everyday activities. And as a result, the finance sector is growing at an alarming rate, especially in loans and investments.
For instance, bitcoin mining was not popular in the last decades, but it's now changing lives thanks to technological growth. A prediction by Capital.com shows that Bitcoin might exceed the $1 million mark by 2030.
Apart from bitcoin mining, technology has pushed the growth of the cryptocurrency business in the finance industry. As a result, digital marketing in the finance sector is growing faster than in any other field.
All these Bitcoin mining, cryptocurrency, and Money Market Funds are a result of fintech, which is not ending anytime soon.
Trust me; it's rare to scroll on your favourite social media account without seeing an advertisement about cryptocurrency or any other description concerning finance, like loans.
This fact means if you have a finance business like banking or investment, you need to take it to social presence. If you don't do it, your competitors are doing it, and it's working for them.
How is Financial Technology Affecting the Finance Sector?
Financial technology is greatly impacting how financial institutions operate. Fintech affects all activities surrounding money; hence it gives people the grace to manage their finances from any part of the world.
Everything has changed about how people used to pay bills, take loans, save money and also make investments, all thanks to Fintech. The growth of financial technology is affecting the operations of Business to Business(B2B), Business to Consumer(B2C), and Consumer to Consumer(C2C).
Those interactions between B2B, B2C, and C2C are thriving due to digital marketing strategic growth. For example, consumers can conveniently monitor the money in their accounts with the help of mobile banking applications.
In addition, fintech has made loan applications and payments more accessible than before. It's very simple to get a lender via their website and get the loan amount you need. Without fintech, that could not be close to the reality we are living.
Furthermore, it's still simple to pay for goods and services using mobile phones in any part of the world. Payment and receiving money is now a few minutes with minimal clicks on your mobile or computer. Isn't the world evolving in the finance sector?
The continuous growth of technology calls for action from anyone in the financial business. Every business dealing with money should embrace emerging digital marketing tools in the finance industry. Otherwise, it won't take long before they get down.
How to Integrate Digital Marketing with Your Finance Business
If you want to appear in the lame light in the finance industry, you MUST use digital marketing for your business. There is no way you can survive with traditional means in a digitally evolving sector in the entire world.
Now, let's see how you can use digital marketing strategies to improve your finance business.
Websites
Mobile applications and websites represent a new way to have direct communication with the desired client. Remember that gone are the days when financial institutions could invest in personnel who will meet the clients in person. In fact, you can now get clients from where they are on online sites.
Banking mobile applications are shaping the banking sector, enabling consumers to actively manage their accounts globally. However, before you can think of a mobile banking app, you better keep the security tight to ensure that your client's information is intact. Remember that the more exposed fintech is, the riskier it becomes for the sector.
Mobile Applications
Mobile apps will help you reach out to your potential customer and offer them services like loans, savings, and investments. If you make loans readily available in a mobile app, it will be easier to build your client base than waiting for them in your geographical area.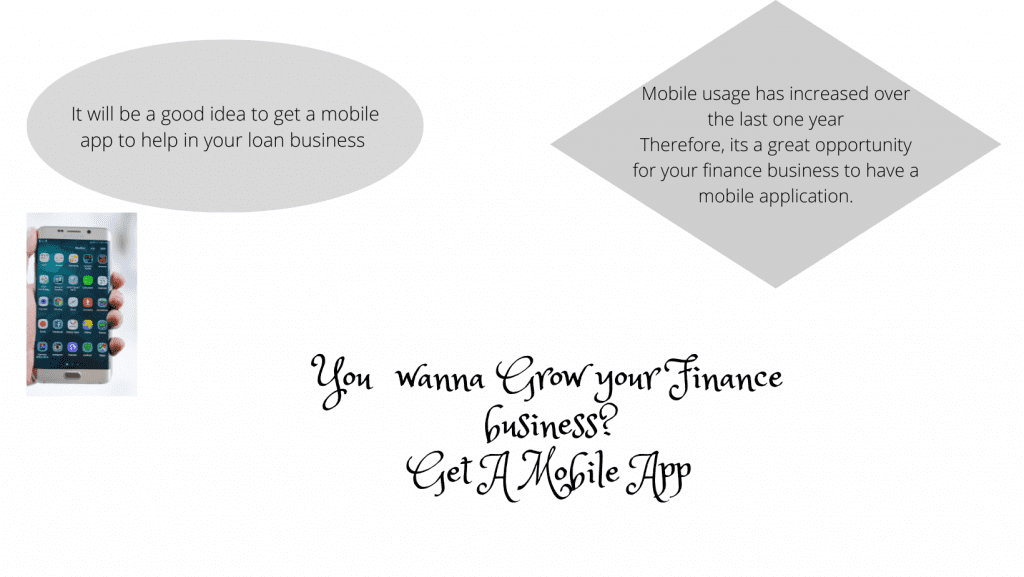 The same applies if your customers can access their accounts remotely from any part of the world. Chances are you won't lose them to another institution because they got all they need on the application.
The same applies to websites. It will be easier to get the right customers at the right time once you have a business website. In addition, you can also educate your clients using informative blogs on your website. If they find the information great, they will keep coming and recommend your products to their friends and family.
That shows how web and mobile app development can help you reach your customers. In addition, if your services are good, the clients are free to broadcast on their social walls, and that results in your business's positive growth.
The secret to growing through mobile apps and websites in your finance business is ensuring you provide nothing but the best. In addition, you should also take clients' feedback seriously, whether it's positive or negative.
If you are wondering how you can get a professional website for your finance business, I'm here to help. I will ensure you get the best website for your target customers.
Social Media Marketing
Social media is the current home of all clients you need in your finance business. Since money is a demand by everyone in the world, it means that you can access millions of customers via social media sites.
It doesn't matter whether you give loans or you offer investment ideas or money-making ideas; you will still get the client base you need through these social media sites.
However, you must be ready to establish your social presence if you want to succeed in getting your clients from social media. You should also bear in mind that social media is open to anyone, and you should be careful about what you post.
Remember that you will get all kinds of feedback once you take your business online. And as a result, the feedback can either build or destroy your finance business. Therefore, always ensure that you give the right information, products, and services if you need growth from this mega client pool.
Social Media Management Tools
As much as social media can be an excellent source of clients, it can be so tiresome to manage several social media accounts separately. That's why there are several tools that you can utilize to manage your social media accounts from one point.
Plannable is a social media management tool that helps you to plan ahead for your posts on all social media platforms. The good thing about this tool is that you can try it for free and get 50 posts with unlimited features to do some testing.
You can plan your content and schedule it on your social media accounts. The social pilot tool goes an extra step to give you content ideas to keep your queue filled. In addition, you can also manage other people's social media accounts at a fee using this site.
Hootsuite allows you to schedule your social media posts. There are both free and paid subscription plans you can choose from. However, with the free version, you will only have access to a maximum of two social media networks that you will manage. In addition, they will limit you to a maximum of scheduling only five messages.
Apart from the above social media management tools, there are many other tools that you can explore to choose your preferred tool.
Search Engine Optimization
Search engine optimization (SEO), is making your website content to be available on search engines. For example, the most visited websites in the world have their content on the search engine's first-page results.
If you have a website for your finance business, it will be good to ensure that you embrace SEO procedures to help your business grow. In addition, you can still hire an experienced professional to help you with that.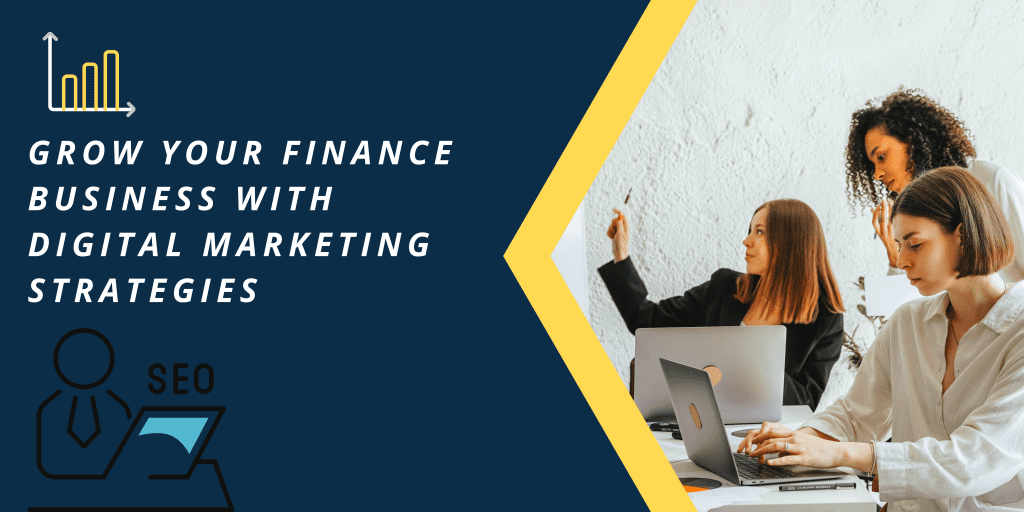 Once your finance website is visible in search results, it builds credibility and trust; hence you will get more visitors and clients in the end. Ranking high on Google shows that your financial services are good, and people will even help you in marketing through word of mouth.
In addition, you also build authority in the finance sector, whether you are offering loans, investment plans, or making money and savings.
Always ensure that you create content that your audience will love, and you will eventually get the leads you need.
Email Marketing
If you ever think of underrating email marketing, you are making a big mistake. Indeed it's through email marketing that finance businesses are closing down those big deals.
However, you must be super careful to ensure that people don't mark your finance business as spam. You can do so by ensuring that you are more helpful to your mail subscribers.
For instance, you can go the extra mile by not trying to sell them anything by showing them offers and some free gifts. That way, they will automatically fall in love with your products and services once you bring them.
Once you get the right subscribers on your mailing list, there is a high chance of getting direct customers from the same. In addition, sending regular emails to your audience brings familiarity with your products and services.
The other good thing about email marketing in the finance business sector is that you will retain long-term customers for your banking services. Email personalizations make customers feel that you are talking to them directly in a professional way.
It's also easier to manage your customers' data and their preferences once you have them on your mailing list.
The most important part of email marketing is getting those services for free, but you can always upgrade for more features. For instance, Aweber email marketing helps you to create a mailing list of your clients.
Video Marketing
These days people are embracing video content more than ever before. As a finance business, you can take advantage of the new trends that will help build your brand.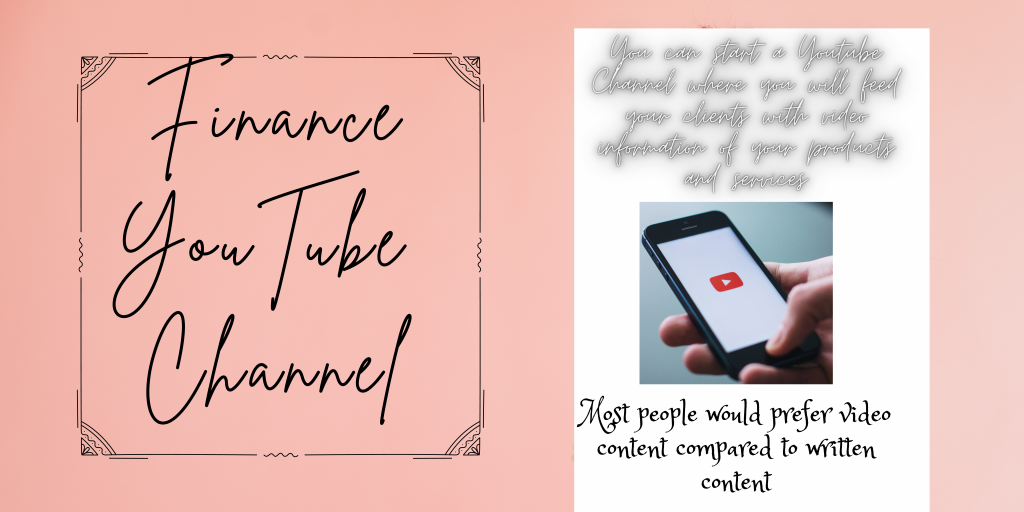 Videos are no longer for entertainment alone. Instead, any kind of business can build its brand by making the right targeted videos. Most people would wish to see videos rather than read articles.
You can create short promo videos that will help you familiarise your brand with the right customers. In addition, you can also create educational articles that will help your audience make good financial decisions.
The good thing about making videos is that you can use free tools like Canva to make excellent videos for your audience.
The Future of Finance with Digital Marketing
The future seems to dwell on the internet. Digital marketing is currently dictating finance businesses and other businesses. And something you should know is that the trend will not diminish anytime soon.
More people are embracing ways they can make and save more money accordingly to secure their financial freedom. Therefore, as much as the desire is continuous, they will not stop looking for more ways to succeed. And that's where your finance business comes in handy.
As much as digital marketing is booming in the finance sector, you should expect more improvements to make it more effective. Never think of a finance business without digital marketing influence.
All clients are camping on online sites looking for the best offers on whatever they need. And they usually get what they need. That means that as time passes, more and more customers will be found online at all times.
As a result, all finance businesses will have to embark on new trends to ensure they are not out of business soon.
Therefore, the future of digital marketing in the finance businesses is so promising.
Conclusion
Now that you know how you can integrate your finance business with digital marketing don't take more time to think about it. Digital marketing could be the only thing you need to prosper in your finance business.
Kindly subscribe to my mailing list to get more interesting and educative articles to help you in financial matters.
---